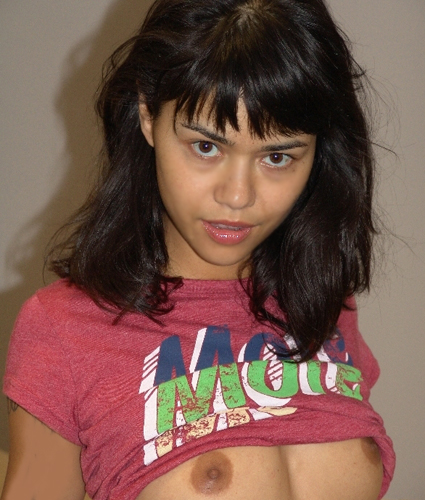 Girls you might like
Dana Vespoli
58,950 Views, 312 Likes, 1,009 Favorites
Tags: Asian, Athletic Body, Dark Hair, Natural Tits, Outie Pussy, Shaved Pussy, Small Ass, Small Tits
Videos of Dana Vespoli
Watch this video now!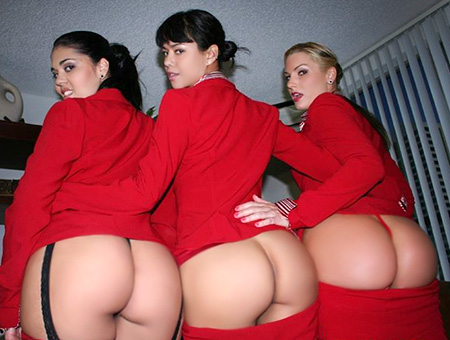 Porn Stars Anal Orgy!
BangBros Remastered - 27,200 Views, 87 Likes, 412 Favorites
This has got to be one of the best updates we've ever had since BangBros took the internet by storm. This is an oldie but a classic AssParade that is a must see, again. I'm talking about non-stop cock blowing, pussy pounding and anal stretching. Oh, let me not forget to mention the pussy squirting. These Porn-Stars know how to fuck. I wish I was in the middle of this orgy. Dana Vespoli, Flower Tucci and Olivia O'Lovely will leave your dick dripping. Enjoy!
Watch this video now!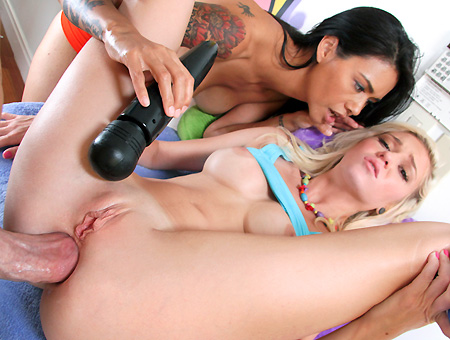 Mom's Anal Threesome
Milf Soup - 61,073 Views, 227 Likes, 1,149 Favorites
Chloe Foster and Dana Vespoli are the two lucky ladies to be featured on today's MiSoup update. They're sexy and ready to be fucked. Dana helps loosing up Chloe's ass-hole by shoving a glass butt-plug in. Preparing it for Mike's thick cock. Once Mike sees what's going on. He goes right for the ass. Licking it all over. Then fucks both of these Hot Moms. Anal sex at it's finest I tell you. The famous Ass to Mouth! Enjoy!
Watch this video now!
Do you like Thai?
Monsters of Cock - 84,651 Views, 285 Likes, 1,123 Favorites
What a beautiful day to see such a gorgeous lady. Dana Vaspoli has the wettest and juiciest pussy ever. Watching her pussy getting thrusted and seeing all the juicy juice just drip down her thighs. You want slide your tongue and slurp out all the tasty mess. Dana also has firm natural tits that are just perky and always ready to greet you. This is a go
Watch this video now!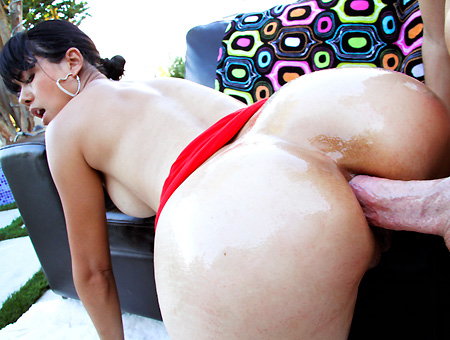 Milf is back for some cock
Milf Soup - 77,563 Views, 298 Likes, 1,308 Favorites
Dana Vespoli is the perfect mom for today's new update of Milf Soup. She sexy and knows how to take a good hardcore anal fucking. Mike loves women that knows what they like and this milf leaves him with a lasting impression. Mike pounds her from every angle possible. making her scream as he pounds every inch of his cock deep inside that ass. Definitely a hot and steamy update. Enjoy!
Watch this video now!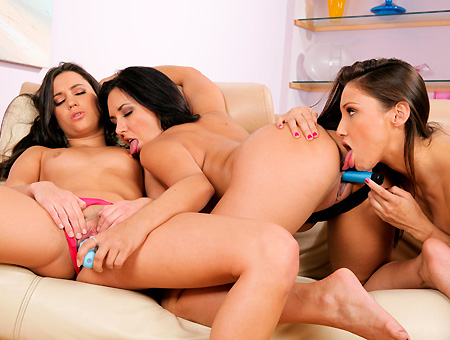 Hottest lesbians ever
BangBros Remastered - 19,162 Views, 56 Likes, 210 Favorites
Wow! What more could you ask for. Nothing but non-stop lesbian action for the masses. These girls don't hold back when there's pussy in their face. Licking and sucking is what happening right now and some dildo pounding. There's nothing like watching 3 sexy ladies going crazy for pussy. Something you have to watch and enjoy! Peace!
Watch this video now!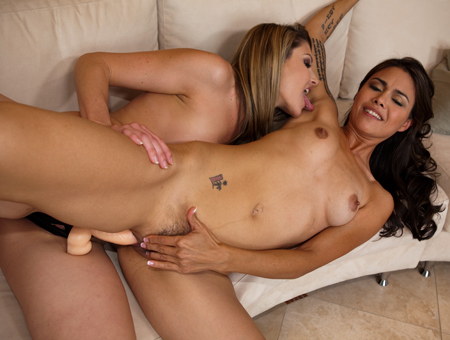 Passing Time Titty Slapping
Power Munch - 21,570 Views, 52 Likes, 202 Favorites
Dana and the girls were out and about having some coffee, the girls? Samantha Ryan and Monique Alexander, that combination is killer! The day was looking great, so they took the action to the tub. The only problem with the scenario was that Dana didn't turn on the heater, so Samantha and Monique turned things up!!! Samantha is fucking amazing, she's classy with the freak behind her!!! When I say freak, I mean FREAK!!! Monique feels the wrath of Samantha's mighty mighty tongue and her powerful dildo stroke. While Dana gets the strap on action Samantha delivers along with the stimulating titty slapping action she's got going!!! It's too hot to tell all, so watch it, enjoy it, and come back...
Watch this video now!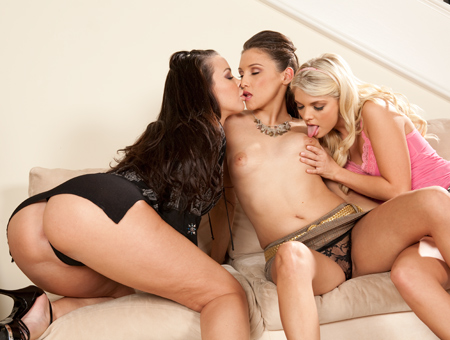 The Only Chix's Around!
Power Munch - 22,848 Views, 40 Likes, 172 Favorites
Hello PowerMunch fans! Today we have a kick-ass update with two new ladies, Sophia and Jana. These two sexy ladies get down PowerMunch style with Celeste and Dana. In this video Dana and Celeste get these two girls and take them back to their place for some hot lesbo action! All the girls take turns getting there pussies licked and stuffed with dildos. I think all four of the girls are fucking amazing but the one stands out to me is Sophia. She is the chick with all the ink and all the ass! Wow! She is fucking amazing! You can't miss this video!
Watch this video now!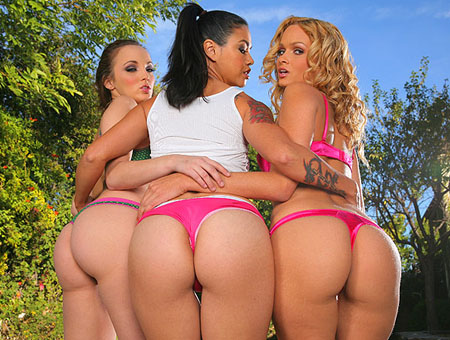 Hot Tub Love
Power Munch - 18,622 Views, 27 Likes, 123 Favorites
There is nothing better than three chicks going at it in a hot tub! Today we have another Power Munch update. Three of are hot ass friends came to show us a good time. Let me just tell you, this video is fucking amazing! These girls are sooooo fun. If I had three magic wishes... My first wish would be to take part in this video! These three girls are all about the pussy, and thats okay cause so am I. This video is a pussy pulsing and dildo stuffing good time! You gotta watch this video.
Watch this video now!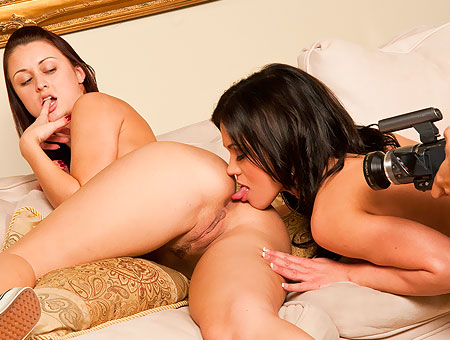 Alyssa Wants New Knockers!!!
Power Munch - 18,277 Views, 31 Likes, 132 Favorites
Was up peeps! Today we have another fantastic update for Power Munch. Starring in todays episode is Alyssa Reece, Karlie Montana and Dana. These girls are fun and all of them have amazing bodies! Today Alyssa is thinking about getting fake tits and she is at the doctor's appointment! Mean while Karlie and Dana race to the surgeons office hoping that they can change Alyssa's mind! To make a long story short. The girls have a pussy dripping threesome that will make your mouth water. Alyssa, Dana and karlie all have beautiful pussies and they are great at getting them off! It is a good day for those who get to watch this video! Check it out! - BigCurly
Watch this video now!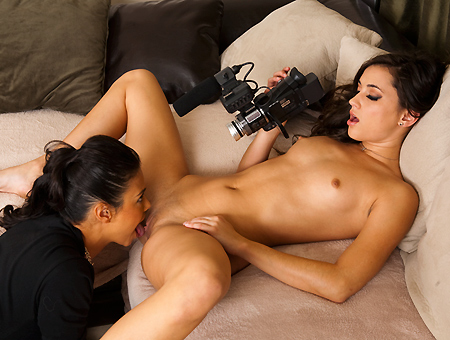 Job Hunting!!!
Power Munch - 21,178 Views, 30 Likes, 179 Favorites
Was up people? We got a pretty cool Power Munch update for yall today. Georgia Jones is the star in this episode, and she is fucking really cute! Dana was at the post office mailing out resumes when she ran into Georgia. They talked a little , and Georgia offered to help Dana with her job hunt! It turned out to be a pussy hunt, and both found pussies. It was great seeing Georgia get her tight little pussy eaten by Dana, and Georgia was not just a receiver, she was a giver as well. Dana also got her rocks off, and it was a pussy-licking extravaganza! Hell yeah, watch this shit! -BigCurly
Watch this video now!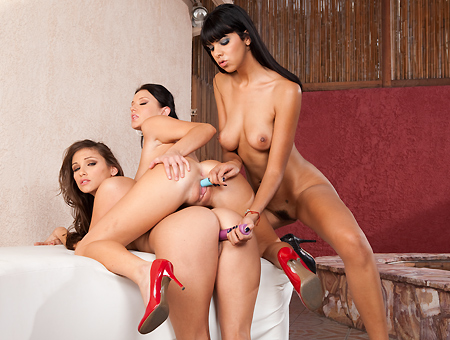 Sexual Healing!!!
Power Munch - 16,111 Views, 35 Likes, 171 Favorites
Hey what up yall? Today I was handed another update for powermunch. It is fucking funny! Celeste is scared because the place they are house sitting for people were murdered in. Really... this shit is totally FUBAR! So... Celeste calls some witch Doctors over to cleanse the house and they whined up being sex therapists. So of course Celeste and Dana do what they do considering they are the horniest lesbos on the planet! Needless to say it ends up being a powermunch fest because the 2 sex therapist (Demi and Sochee) are fuckin slamming hot and love pussy as much as Dana and Celeste! These girls break out the Dildos and get to work on each other! This is a great update! I suggest you watch...
Watch this video now!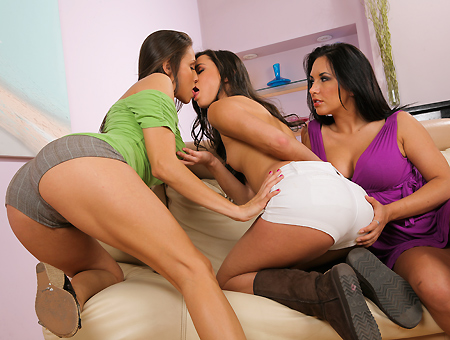 Naked House keepers
Power Munch - 44,695 Views, 73 Likes, 299 Favorites
We have another fantastic Powermunch update today. Dana and Celeste found out their friend Georgia is making some serious bank doing some type of odd job and they want in. So they meet up with Georgia to see what's up, and she (Georgia) winds up taking them to meet her boss! Her boss's name is Zoe, and it turns out she wants Celeste to do an interview. This turns into a hot lesbian threesome with Georgia, Celeste, and Zoe. All of these girls are fucking amazing and love to eat pussy along with other crazy shit! It's a pretty crazy time, and is absolutely a powermunch fest! Check this shit out! -BigCurly
Watch this video now!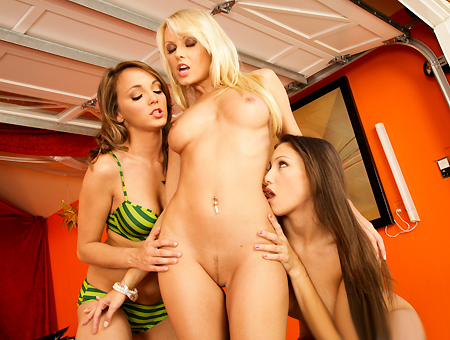 Cummin on the Lambo!!!
Power Munch - 36,610 Views, 59 Likes, 213 Favorites
What's up everybody! We got a pretty sweet power munch update this week. I love lesbians! There is nothing better than watching four chicks go to town on each ther's pussies on top of a Lamborghini! This video is a fun time! It is definitely a dildo pumping, power pussy munching, tittie sucking goodtime! These girls are real LA chicks just down for a good old fashion lesbian fest. Check it out! -BigCurly
Watch this video now!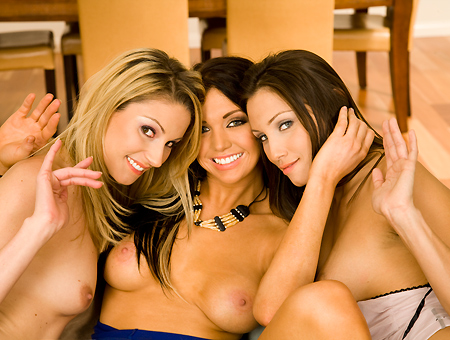 The Hang Over Cure
Power Munch - 21,620 Views, 30 Likes, 145 Favorites
Ever been hung over? That sick feeling that keeps you planted on your bed all day, that "I have to slow down drinking" thought that crosses your mind continuously. We found a sexy remedy. Our lovely Dana Vespoli was having one of those days. Celeste encouraged her to walk it out, go out and just let the sunlight hit her a little something sunny. They walk into a store and come across Veronica Ricci and Samantha Ryan, two sexy vixens with a taste for adventure. They invite the girls over to their place. By the time they're done, Dana's hang over was a thing of last night. Enjoy, Merry Christmas!!!!
Watch this video now!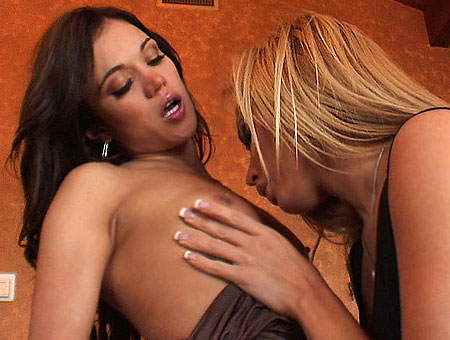 Our Car Broke Down!
Power Munch - 20,856 Views, 21 Likes, 123 Favorites
Hey everybody its BigCurly from the editing department at Bangbros. Today we are launching a new site called powermunch.com and let me tell you these chicks are fucking smoking hot. This is a lesbian site and all the chicks are completely out this world! The three lovely ladies in this video are Lexxi Tyler, Alyssa Reece and Dana Vespoli. Alyssa and Dana are going to a baby shower and their car breaks down. They go to a near by house for help and run into Lexxi. They're peeping in the windows to see Alyssa having phone sex. After inviting themselves in. They have a crazy threesome! It was a crazy pussy licking, tittty sucking... Lesbian MUNCH FEST! Check it out! -BigCurly
Watch this video now!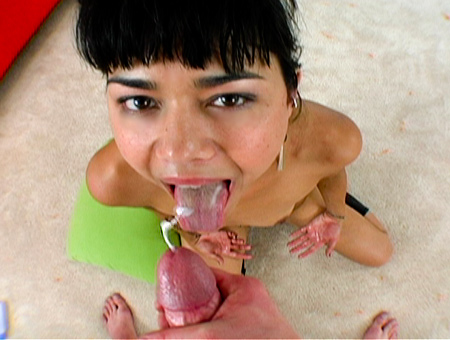 Dana Vespoli
Big Mouthfuls - 18,239 Views, 42 Likes, 217 Favorites
Are you ready fellas for another Big Mouthful??..Well check out what we have here for you today. The lovely Dana Vespoli, has made her way to our interview couch, to gives a little bit of her backstory into the porn world. This sexy seductress gives us a peak in to her world, while showing off her sexy body. Shes not shy about what made her famous, her tight pink pussy and her sweet ass. Dana shows us how her contracting coochie, that she calls "the grasper", works wonders on a guys cock. And my boy JT couldn't wait to give it a try. Fellas dont miss out on this tempress, her freaky side definitely comes out on todays shoot...Enjoy!!!
Watch this video now!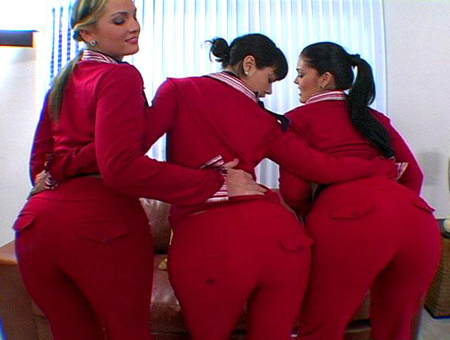 Mile High Club
Ass Parade - 60,325 Views, 138 Likes, 637 Favorites
If you haven't joined the Mile High Club yet, these flight attendants are just the girls to sign you up! Flower, Olivia, and Dana flew all the way from Los Angeles to show you all the ass you could ever dream of. You can just imagine how horny these girls were after being stuck on a plane for so many hours without enough cock to go around. We here at Assparade know just how to handle this type of thing. We had JT and Preston waiting for them at the hotel, where the girls stripped out of their tight uniforms. Asses like theirs shouldn't be so confined! Anyway, these girls know how to put on a real ass worshipping show. The sexy strip tease was only the beginning. What came after was the...
Watch this video now!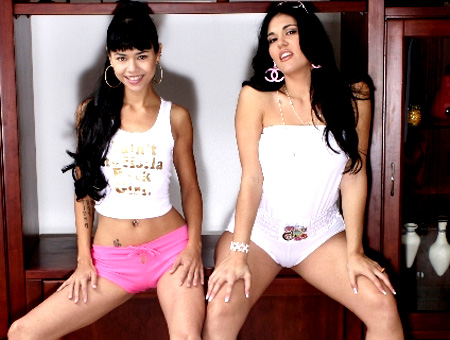 Olivia and Dana
Ball Honeys - 25,239 Views, 59 Likes, 300 Favorites
This week we bring you two sexy Latinas, Olivia O'Lovely and Dana Vespoli. Alex was the lucky fuck that got to sex it up with these horny hotties. He got the best of both worlds this time. Olivia is a voluptuous beauty with huge tits and a matching ass. Dana is petite with perky tits and a shapely ass. These girls were good. They ate each others pussys, sucked each others tits, took turns giving Alex a blow job, and while one was getting fucked the other was always helping out is some way. There's never a dull moment in this moment. Personally, I liked it at the end when the girls lick cum off of each others faces. You'll see what I mean when you watch the film.
Watch this video now!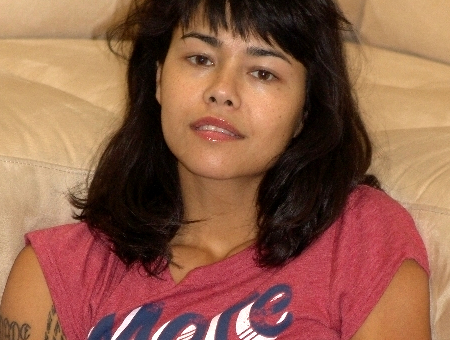 Dana Vespoli
Tugjobs - 10,571 Views, 22 Likes, 72 Favorites
Hey, this is Dana Vespoli and i believe i am here to write about my little encounter with Mr Preston Parker. He is such a cutie and he has a huge perfect cock... my perfect man! Oh, plus... he wears tighty whitties.. who does that now a days anyways!? LOL Anyways, the OPP fell in love with my little round ass, and i know the whole time i tuged on his cock he was thinking about sticking it up my ass. He has a great dick that kept on getting harder and harder between my hands, i gotta admit, i got quite excited too... pretty wet if you ask me! So, just check it out! Latz
Join Here for Unlimited Access now! Join now and get ALL 43 of our exclusive porn sites for the price of just 1