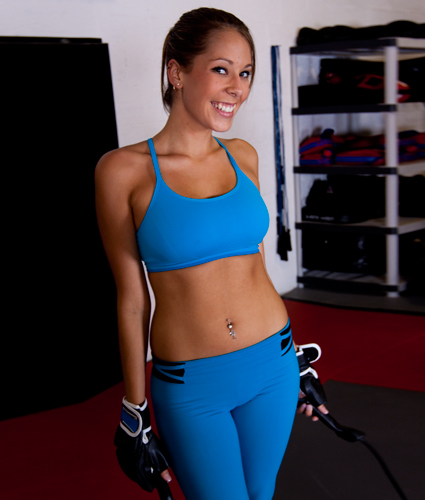 Girls you might like
Nikki Brooks
50,239 Views, 149 Likes, 843 Favorites
Tags: Athletic Body, Brunette, Innie Pussy, Medium Ass, Medium Tits, Natural Tits, Shaved Pussy, White / Caucasian
Videos of Nikki Brooks
Watch this video now!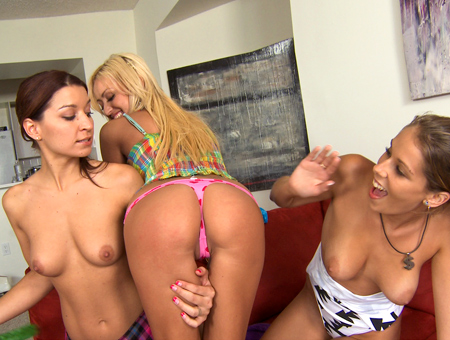 Skating and Munching
Power Munch - 11,685 Views, 41 Likes, 331 Favorites
It was another sunny day and Nikki Brooks and Ann Marie Rose were roller-skating on the beach, out to find some hot chick to take advantage of it. They were warming up for some munching they had planned but they were surprised to find Breanne Benson sitting on the bench. Of course, the girls worked their magic, touching her perfect titties and rubbing her sweet ass, and guess what? All three went home for some home licking fun. You already know what happens from there, right? Well here's something, you might not know - Ann Marie Rose is a sexy little muncher, freaky and fully loaded. =) Add Nikki and Breanne to the mix and it's a wrap. Don't miss it, you'll be sorry. Munch it out!
Watch this video now!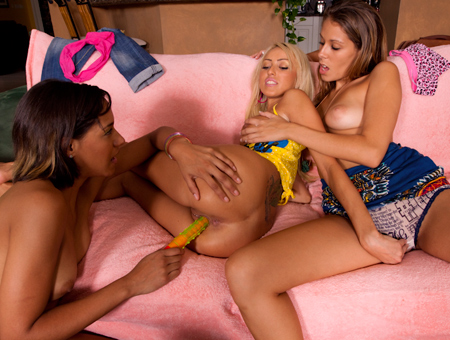 BBQ and then Munch!
Power Munch - 9,660 Views, 46 Likes, 358 Favorites
Today, Nikki Brooks, Breanne Benson, and Courtney Page got together for a little bbq to celebrate the beautiful day. It was just the girls, hot dogs, a grill and some fun toys - all the right ingredients to an awesome time. The bbq was all right but the highlight of the afternoon came when the action went inside. It was munch time and the girls were ready for action! They can't keep their hands – and their toys - off of each other. Nikki and Courtney team up on Breanne and her little pink pierced pussy. There's licking dildo action on this one and that's just mentioning a few of the surprises the girls have in store for you guys, don't miss it!
Watch this video now!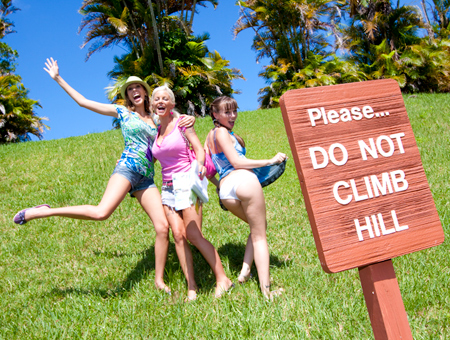 Munching Around in the Zoo
Power Munch - 13,756 Views, 44 Likes, 277 Favorites
Nikki and Capri decided to take a trip to the zoo today. While going from animal to animal, they came across a pretty kitty drawing some tigers. Grrrr! Her name is Delta White, oh shit she's hot! She's got this very sexy accent that go great with her huge tits and the way she eats pussy. the trio started out with a little bit of mouthful of tits, and worked they're way onto full blown munching and concluded the activities with a strap on. The shoot can't be missed, hope you guys enojy it.
Watch this video now!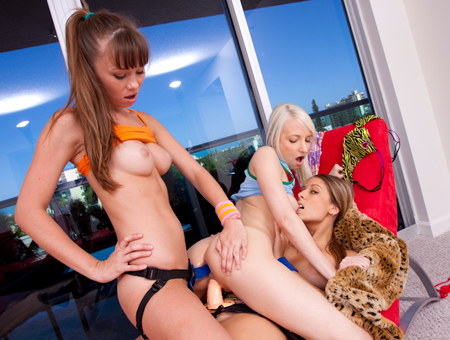 Basket Munch Playoffs
Power Munch - 21,767 Views, 99 Likes, 714 Favorites
The girls decided to come out and shoot a little hoops, it was Nikki, Capri, and Ashley Jane taking on the court. It lasted very little as their basketball skills were lacking compared to their munching technique. They went back to Ashley's apartment where the clothes came off and tongues clashed with pussy lips and tits. Enough said? No, not yet, Nikki went to town on Ashley with a strap on while Capri ram a dildo on Ashley's ass. The rest is for you to find out because it's too much for me to tell you all in here, check it out friends.
Watch this video now!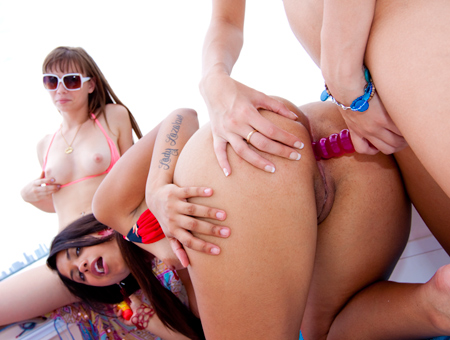 Cum on the Boat
Power Munch - 17,746 Views, 57 Likes, 445 Favorites
It's hot! Capri and Nikki took a little boat ride with Leah James to better enjoy the sunny day. They rode off into a private place in the water and it brought out the freaks in all of them. Capri was yumming on Nikki's kitty and Leah had a little surprise for both of them. She took the dildo up the ass and begged for it. Nikki and a strap on go hand in hand so she put her skills to good use as she beat that ass real good. Leah had a good time because she came and creamed on the boat. Munch it out!
Watch this video now!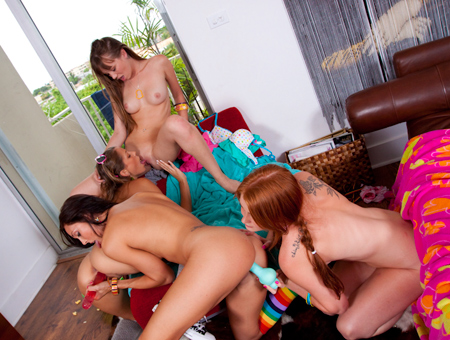 Freaky Slumber Munch
Power Munch - 10,621 Views, 55 Likes, 382 Favorites
What's better than an afternoon indoors watching movies? An afternoon with Nikki Brooks, Capri Anderson, Amber Swift, and Melissa Jacobs watching a flick!! Nikki decided to surprise everyone by bringing over some Bit Tits Round Asses for the girls, she knew what she was doing. It worked like a charm because they had a free for all munch. There was non stop pussy licking action and plenty of dildo penetration going on. Power MUNCH!
Watch this video now!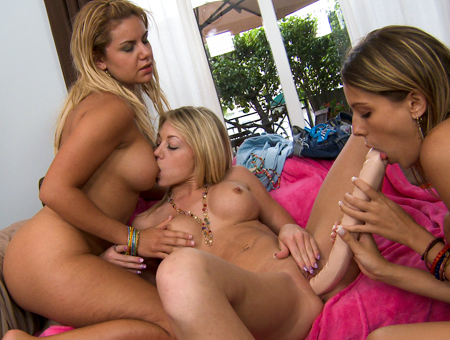 Girls And Their Toys
Power Munch - 9,028 Views, 46 Likes, 290 Favorites
So Nikki did it big this time, she came rolling through in a humvee, it was a cool way to pick up the hot chicks from the beach to take back to the her place. It was a get together to remember cause Shawna ended up being a freaky little surprise, not to mention how she worked up Rita. This is an episode to see!! ALL 3 girls eating out and fucking each other with dildos is fucking great. Check it out!!
Watch this video now!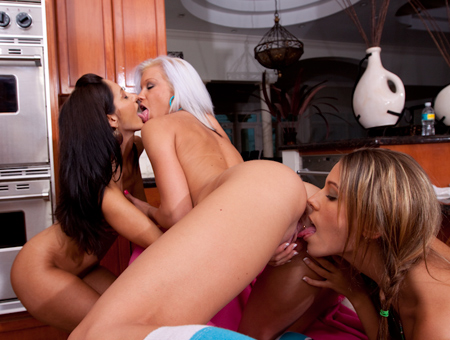 Munch and Bake
Power Munch - 13,336 Views, 1 Likes, 333 Favorites
Munching and Baking don't go together, we found this out the hard way when we went over to Kelso's for a baking getty, Nikki Brooks came through with her easy to bake cookies that ended up being not so easy but to her defense, she brought Ava Addams. Ava's way better than those cookies anyway. It was raining cats and dogs outside so we brought the kiddies inside and let them run around for a bit. It started with AVA, who's sexy body, big tits, and nice plump juicy ass got Nikki excited, Kelso was not holding back either, cause they took Ava and gave her multiple orgasms. Nikki took in some of the magical bllue finger and came while on top of the counter but the munching award for best cum...
Watch this video now!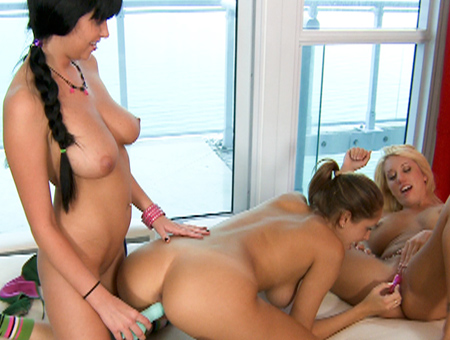 Walking the Kitty
Power Munch - 10,203 Views, 1 Likes, 314 Favorites
So Nikki decides to take her little dog for a walk, says it never fails when picking up women at the park. She runs into Chloe, who decided to take out her kitty for a walk, along with her friend Heather, so they're taking in the sun, chit chatting when Nikki's dog goes in for the attack, she totally grabs the muncher's to be attention and conversation starts. It's about to rain so they all decide to get out of the rain to be and go somewhere more cozy, so they end up at Nikki's for some munch and relaxation. Heather has a clit piercing, she's got a fat ass and a huge tits, more for Nikki to play with, and Chloe, when she's about to cum, she CUMS my friend! Have a good munch ;)
Watch this video now!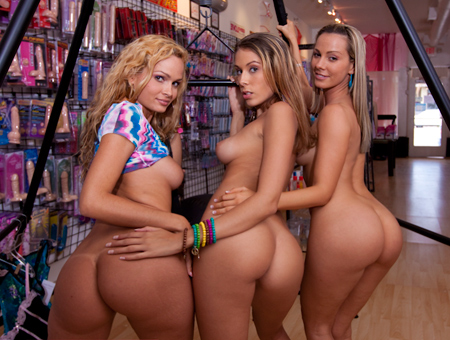 Sex Shop Surprise
Power Munch - 13,871 Views, 1 Likes, 449 Favorites
Another munch that you can't miss!!! Sandy and Nikki were walking through the beach, exhausted from the heat, they were looking for a place to take a load off, then they ran a sex shop that's a kinky little haven for our munchers. At first, the shop was rather empty, the girls explored the merchandize and then went to look for some assistance. And assistance they found when they caught Prinzzess playing with herself in the booth. That unleashed an all out munch fest and the girls get wild, I could sit here and tell you how sexy and how much fun went down but you gotta check it out, period!
Watch this video now!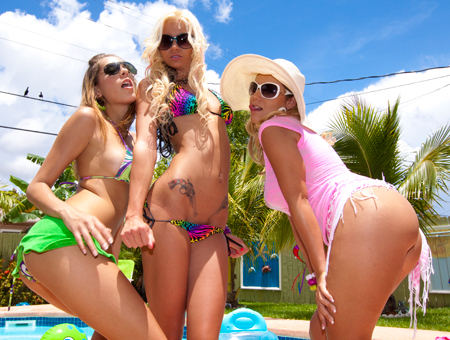 Pool Party a la Munch
Power Munch - 8,199 Views, 28 Likes, 252 Favorites
Nikki and I came by our friend's house for a little getty at the pool, drinks with Kelso and Rita, and we had a good time cause they were hot and wet by the time we got there, so some very interesting things happened in that pool. We were kicking it, played some volley, rode floaties for some clit stimulation, and then Dildo's came into play, there was kitty licking fun, and i can tell you more but just click on the play button and see for yourself.
Watch this video now!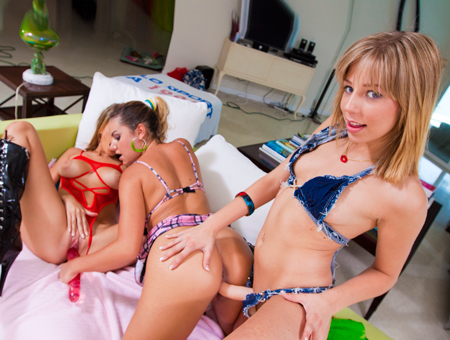 Stripper Love!
Power Munch - 14,953 Views, 60 Likes, 441 Favorites
What up lesbian fans! I think the next investment I make is going to be a stripper pole in my living room. In this weeks update we have Rita Marie, Chastity Lynn and Nikki Brooks. These three ladies are fucking smoking hot and down for some threesome pussy licking action. All of these girls have amazing bodies. From an athletic build all the way to round and bubbly. It is a great time watching these ladies fuck each other with all types of toys, like strap ons and vibrators. So come check out this Power Munching munchfest.
Watch this video now!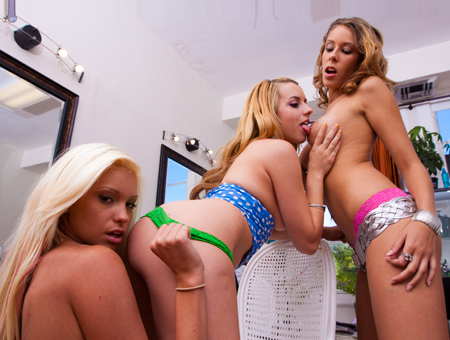 Hair Did and Pussy Licked!
Power Munch - 18,036 Views, 1 Likes, 361 Favorites
What up everyone? Today we have an amazing update for Power Munch. Nikki Brooks heads to the salon to get her hair did and ends up getting her pussy fucked by her stylist and assistant (Kelso D'Love and Lexi Belle). These three girls are fucking fine! They all lick, suck and fuck each other with toys and tongues! It is a good day for Powermunch fans! For all you lesbian lovers... I suggest you watch these three sexy ladies get it on!
Watch this video now!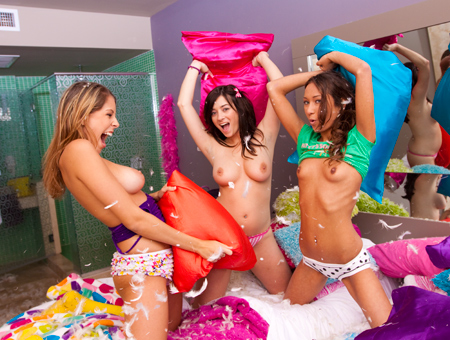 Shake your Tail Feather...
Power Munch - 17,322 Views, 1 Likes, 412 Favorites
Holy hotness! This new Power Munch update is fucking amazing! We have Taylor Vixen, Nikki Brooks and Jesse Jordan. These three beauties are fucking great. In this video these three girls have a slumber party with all the normal stuff: Girl talk, pillow fights and pussy licking. Yes I said pussy licking! All three of them start fucking, licking and playing with each other. It is pretty much awesome. I highly suggest you all watch these bomb shells fuck each other until they all cum! Yummy!
Watch this video now!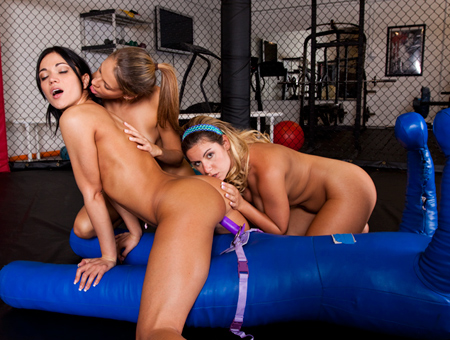 Chick Fight!
Power Munch - 6,175 Views, 1 Likes, 233 Favorites
What up? We decided to take this weeks Power Munch update to the ring. In today's line up we got Alyssa Reece, Nikki Brooks and Rita Marie. These three lesbian goddesses are fucking amazing from there beautiful asses to there natural tits. Watching these girls sucking on each others clits and ramming dildos in one another will get your rocks off quick. Each girl has her own great characteristic from Alyssa's rock solid curves to Nikki's sweet tits and of course Rita's fatass. Watching these girls lick pussy is amazing and I highly suggest you watch this video!
Join Here for Unlimited Access now! Join now and get ALL 43 of our exclusive porn sites for the price of just 1