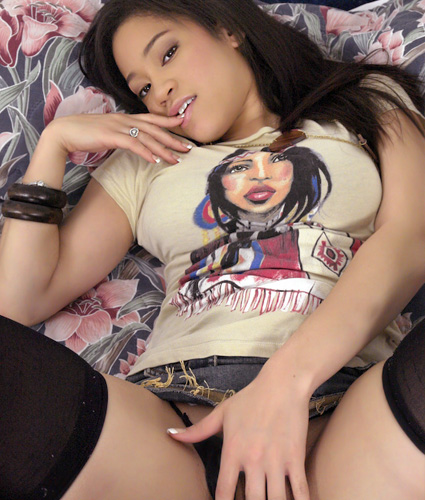 Profile for: Kianna Young
---
About her:
Name: Kianna Young
Body type: Average
Pussy hair: Bald/shaven
Ethnicity: Black
Hair color: Brunette
Pussy type: Innie
Tit size: Medium Tits
Tit type: Natural
Ass: Small Ass

Summary


Kianna was born in Hawaii, but raised in Southern California after her parents relocated to Cali, when she was only 18 years old. Growing up she was a bit of a wild child. She says she has always been in the party scene. She loves to race cars, and loves to eat sushi. Her story began on her 21st b-day, when her and some friends, drove down to Los Angeles for a weekend celebration. Little did she know that her celebration would turn out to be the beginning of a fun and exciting career. While waiting at the bar for a drink, a tall and sexy man (as she describes) approached her and asked if she was interested in nude modeling. Kianna, wasnít really too fascinated at first; however, she took the manís contact info, and kept in touch with him. After a couple of months of getting to know each other, she decided to visit him in LA, and went to her first shoot. She said she wasnít nervous at all, and had a great time. She later decided to venture out into the porn industry. Now at the age of 23, Kianna has been featured in over 50 scenes, and could be found on todayís hottest DVDís.