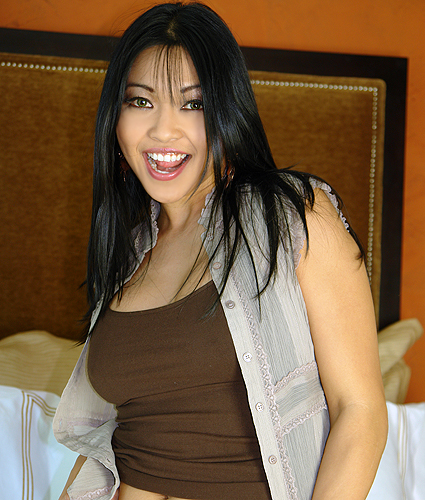 Profile for: Mika Tan
---
About her:
Name: Mika Tan
Ethnicity: Asian
Body type: Average
Hair color: Dark
Tit type: Enhanced
Pussy type: Innie
Pussy hair: Landing Strip
Tit size: Large Tits
Ass: Small Ass

Summary


Born on the Hawaiian island of Oahu to an Okinawan/Taiwanese mother and a Japanese/Samoan father, Mika mother's side was full of aunts and cousins who were models and musicians. She was raised primarily by her grandmother who was an established Hawaiian/Japanese folk dancer and singer. Her father's side is full of military servicemen and women, including her sister who is in the U.S. Marines and helps with her official website. As a "Navy brat", Mika traveled across the United States and parts of Europe, Southeast Asia, the Middle East and Africa before she went to high school. She worked as a child model, as an extra in television and theater, and at one point was a member of the Movement Company dance troupe of Guam where she performed modern jazz and ballet. She attended San Diego State University where she earned a Bachelor's degree in Biochemistry and an Associate's degree in Psychology. She has also studied classical voice at the Magdalena Perés School of Voice and is a graduate of the John Robert Powers finishing school. Despite her aptitude for science, she found she did not enjoy the work as she was more of a "people person". She worked in sales & marketing in the timeshare industry for Dennis Hof prior to working in the adult film business. Hof was later quoted as saying, "She is straight as an arrow; I had no idea she leaned that way; I would have approached her to work for my Moonlite Bunny Ranch back then!" She tried her hand at acting in California but stopped after the realization that the casting couch was not a myth. She gave up mainstream acting completely when her agent sent her on a go-see, with instructions to be a "good sport". Mika tried stripping and art class figure modelling to make extra money when she was working as a research assistant after graduating college. The nude modeling lead to an interview, then to an agent, and finally to her debut in adult cinema. Mika has been quoted to say, "For the record, no adult entertainment director, producer, or crewman has ever sexually harassed me EVER. If I have to fuck for work, then I'll just fuck for work. Sure, the sex acts are documented, but at least the payoff is guaranteed in porn." Initially she tried to work with only her former husband. She then decided to work with other males in the industry to pursue her adult career. Unfortunately, it put a strain on their relationship and he filed a divorce. Mika stated in an interview, "He was just too jealous and couldn't handle me working with other men". Mika also had an abortion in this period, which she described as the worst time of her life. She left the porn industry briefly before returning and returned with new breasts in 2000 or 2001 and facial reconstructive surgery due to a near-death accident in 2002. Ms. Tan came back almost a new person. Among her sex film aficionados, she is known for her intense and loud orgasms on screen, and is noted for her work ethic and professionalism on set. She works with both men and women of various races in her films, always displaying a voraciousness and enthusiasm matched by few. She has been romantically connected with fellow adult industry workers Brett Rockman, Nick Manning, and Alec Knight. As of 2006, Tan and Knight are married. Tan has been called the "Susan Lucci of Porn", having been nominated many times, but not winning any AVN awards until 2006 when she won for best oral sex scene. She was quoted lamenting bittersweetly on the matter, "I'm no longer the Susan Lucci of porn. What am I going to call myself now? I don't have a tagline." Currently, she does primarily fetish-oriented work, including work as a dominatrix and sub for the kink.com group of companies, mostly the "Men in Pain" and "Mean Bitches" websites, where her intense performances have made her a favourite. Tan classifies herself far more as a fetish model than a porn star - indeed, according to her official listed bio on her website, Tan states: "For the record, I do not consider myself a pornstar and any girl who has done less than 250 films shouldn't either."[6] Though Tan still does hardcore sex films, she also does features with a story-driven nature, such as her recent 2006 "Memoirs of a Modern-Day Geisha" (from VCA). In one interview she explained, "Just because I do the fetish and understand it doesn't mean it turns me on. I don't really like to beat people until they bleed, even though I've done it." As of March 2006, Mika has done over 877 fetish and hardcore scenes for video and the internet. She also takes orders for custom videos through her website: Fans are told to submit a script, scenario, and choice of cast, in return for which she will make the custom video for a nominal fee plus production costs.